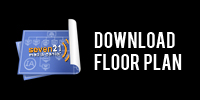 You just found the place to be.
The Seven21 Media Center in Kingston, NY is the Hudson Valley's media production, technology,  and business office building. This is a place where independent media professionals and businesses from every facet of the industry unite to share projects, resources, knowledge, and inspiration. We invite you to join us and schedule a visit today. Whether you specialty is film, video, photography, music, audio, graphics, animation, technology, arts, entertainment, marketing or communications, you'll find a great space and friendly community waiting for you here. We have office suites from 200 to 2000 sq. ft., starting as low as $350/mo. Check out our floor plan then schedule a visit to snap up your dream workspace before it's taken!
Call 845-331-0551 to schedule your visit today.
Don't take it from us, listen to what a Seven21 tenant has to say about their move to the building:
Building Amenities:
High visibility, high traffic location, and easy access from anywhere in the region
High-tech, artfully decorated common areas
Shared conference rooms and lounges
Kitchens on every floor
Broadband WiFi and hard wired internet access
New network infrastructure and Data Center
Generator backup power (in certain areas)
Plenty of off-street parking (70 car parking lot)
Card access and building security
Access to sound stages, equipment rentals and other services
Collaboration with other media professionals
Facility Advertising and promotions